Archiware P5 Version 5.1
Find all relevant information and links
New Name / Setup Assistants
This new version drops the word PresSTORE from the product name and becomes simply Archiware P5. Under the hood, it gains some great features as well as a completely new database engine.
Getting started with P5 has never been easier. Setup assistants for P5 Backup, Synchronize und Archive get first time users up and running in three easy, assisted steps. A Backup plan can be setup within just a few minutes, finishing with the option to run it for the first time immediately.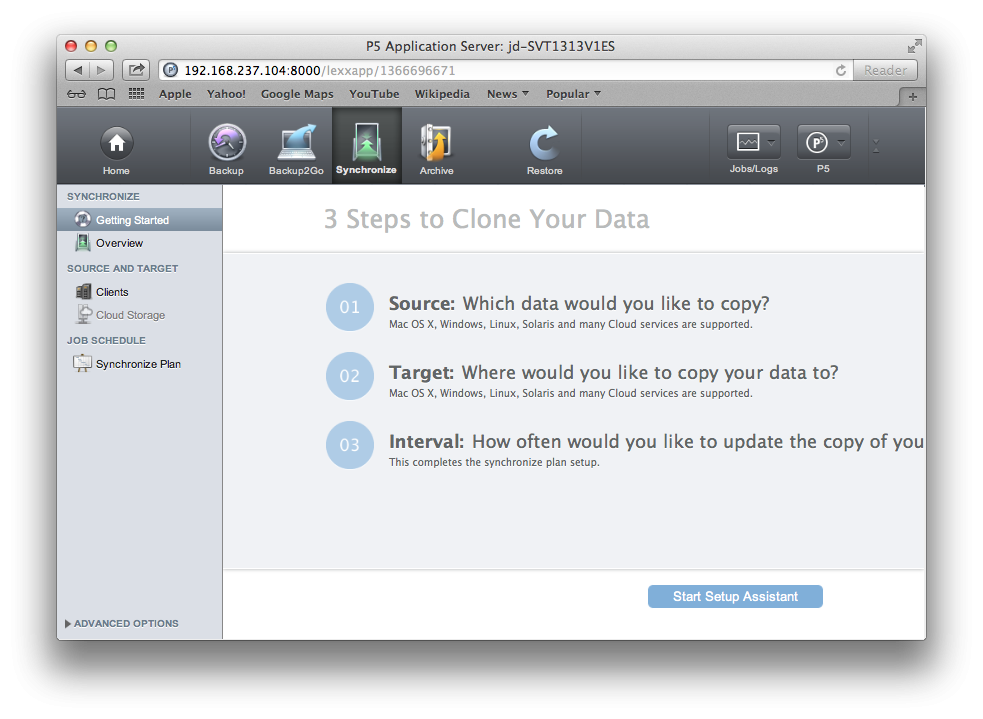 Setup Assistant in P5 Synchronize
Technology
The new P5 engine based on SQLite changes how the index is generated. The 4GB index size limit is now a thing of the past. P5 is ready for the future, with a new index that scales indefinitely.
Snapshot capabilities within P5 Backup and Archive enable point in time restores. This lets users go back to specific points within any given project.
LTFS and Cloud Support
LTFS Support
P5 integrates with MediaLTFS, a tool designed to manage LTFS tapes. Through this integration, P5 can label, mount or un-mount tapes and allows users to read and write to or from the medium. P5 also handles the management of a designated tape drive within a tape library, keeping archive tapes as well as LTFS tapes cleanly separated.
In addition to the native LTFS support, P5 adds the option to restore files from P5 Backup and Archive to a designated LTFS tape. LTFS tapes are primarily a means of transportation between different sites, possibly with the sender or receiver not owning a P5 license.
Cloud Support
Archiware P5 integrates with WingFS, the universal cloud connector. This tool enables P5 Synchronize to replicate files to and in between popular cloud services, such as Amazon S3, Google Drive and Google Cloud Storage. Just as importantly, P5 Synchronize can backup data from the cloud to a local storage. Back up your cloud and preserve ownership of your assets!
Note: Both WingFS and MediaLTFS have to be downloaded separately. See the Download page for available OS versions.
Cloud Support setup in P5 Synchronize
Archive & Asset-Management
Incremental Archive
Incremental Archive is an archive option that only moves data that has been altered. This feature is analog to the incremental option in P5 Synchronize and made possible by the new snapshotting capability.
Altering a file triggers a new version that will then be included in the file's overview screen (see overview screen below).
Pre-definable meta-data fields
Pre-definable meta-data fields allow users to specify mandatory metadata for the assets being archived. While archiving, mandatory dropdown menus can be presented to the user, ensuring a homogenous use of metadata throughout the archive.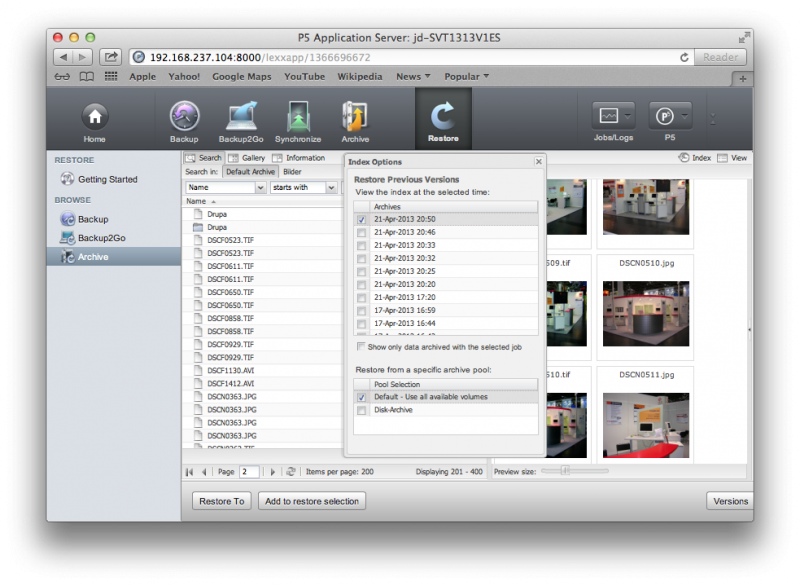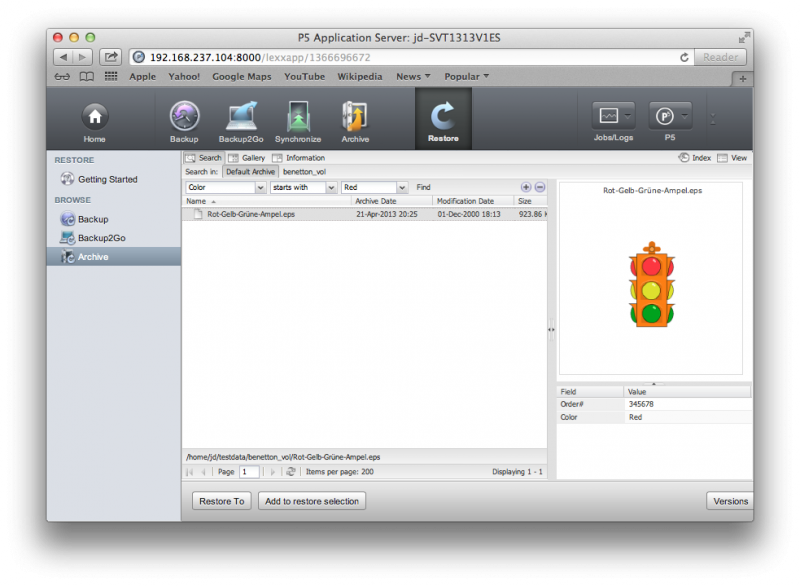 Pre-definable metadata fields in P5 Archive
Pagination & Search
The pagination functionality within P5 Archive speeds up browsing, as only a limited number of assets are loaded for each page. This significantly improves browsing speed for large data sets.
An improved search algorithm, combined with the new engine, improve speed and add search functionalities as well as thumbnails within the search. Quick switches between browse and search mode are easy, while staying within the same window.
Archive overview screen
A newly designed overview screen within the P5 Archive restore section makes for a great new browsing experience. Included within the same overview screen is the file structure, a chosen asset, its meta-data, as well as a thumbnail. One additional click also gives access to a file's versions (see incremental archive).
The display of previews can be customized by changing display size within the P5 Archive overview screen.
The new option to generate SQL queries makes third party integrations possible, especially for MAM/DAM.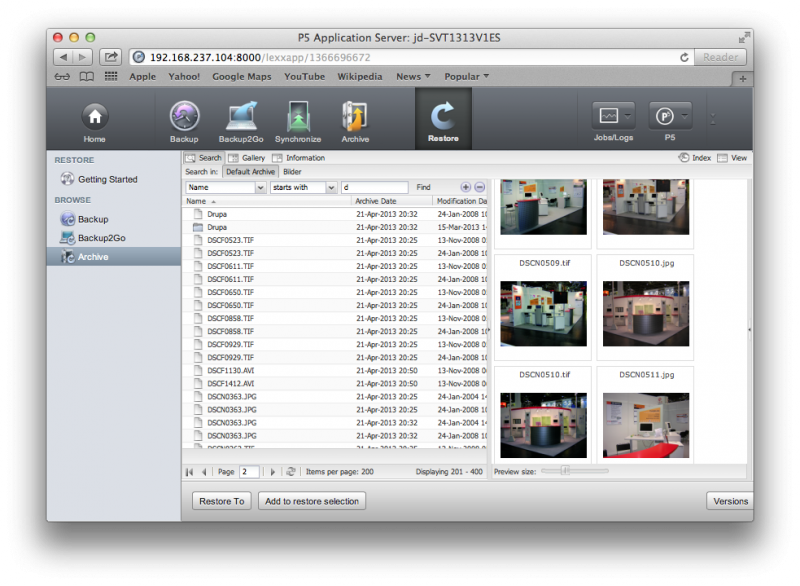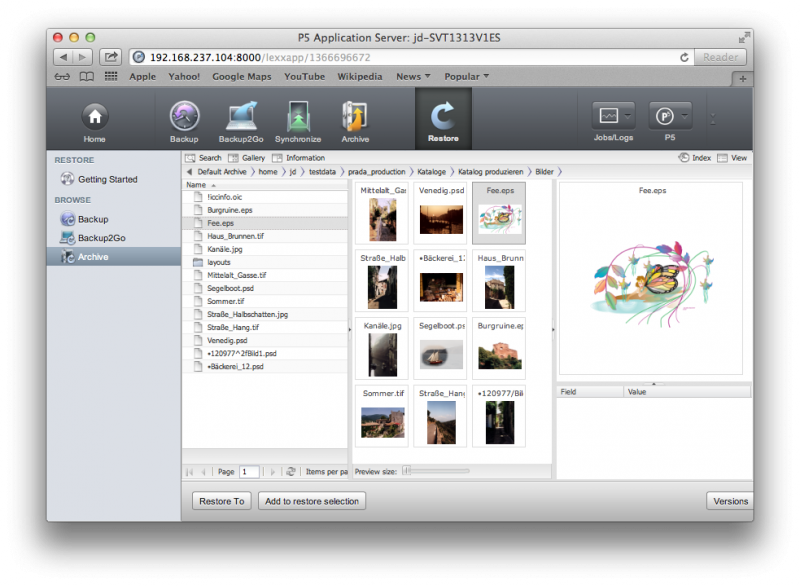 Overview Screen in P5 Archive
Requirements - Archiware P5 Version 5.1
Operating System Requirements
macOS
Intel 10.6 – 10.9 (Intel)
Windows
Server 2008R2, 2012R1/R2, Windows 7, 8
Linux

Kernel 2.6.4+ (x86) 32-Bit or 64-Bit with 32-Bit libs
For FS-events with inotify, Kernel 2.6.13+ required.
As Backup2Go Server: Btrfs 0.19+

Solaris
Sparc Solaris 2.8+, x86 Solaris 2.10+.
Note:
Language package Unicode UTF-8 required
FreeBSD
9.2, 9.3, 10.1, 10.2 (64-Bit)
Virtualization
x86 – VMware, Parallels, Xen, Hyper-V
Hardware requirements
Memory
1 GB+
Hard disk
200 MB for Installation + variable
(for backup/archive indexes)
Browser Requirements
| | |
| --- | --- |
| Safari | 5.1 + |
| Firefox | 3.5+ |
| Chrome | 4+ |
| Internet Explorer | 9+ |
Compatibilites - Archiware P5 Version 5.1
Supported Tape Technologies
LTO-1, LTO-2, LTO-3, LTO-4, LTO-5, LTO-6
S-AIT 1, 2, 3, 4
AIT 1, 2, 3, 4, 5, 6
DLT4000-8000
SDLT220-600
DLT-S4
VXA (on request)
8mm
DAT
Disk Storage
Direct attached storage (DAS)
Storage area network (SAN)
XSAN
RAID
MetaSAN 4.0.0
Removable Disk (RDX QuikStor)
Proprietary File Systems
Helios (UB, UB+, UB2, UB64)
Xinet V14
Netatalk 2
Supported Interfaces
SAS
SCSI
iSCSI
FibreChannel
Firewire
USB
SATA
eSATA
Thunderbolt
3rd Party Integrations
Final Cut Server
Canto Cumulus
CANTEMO
CatDV
Supported Tape Library Vendors
BDT
Dell
HPE
IBM
NEC
Oracle/StorageTek
Overland
Qualstar
Quantum
Sony (AIT)
Sprectra Logic
Tandberg Data
Supported Hardware Manufacturers
Accusys
Apple
DDP
Dell
Drobo (as a disk)
HPE
IBM
LaCie
mLogic
NEC
Netgear
Object Matrix
Overland
Promise
Qualstar
Quantum
Samsung
Sonnet
Sony (AIT)
Spectra Logic
Sun/Oracle
Tandberg Data
Please read these FAQ carefully before upgrading to Version 5.1!
To download Archiware P5 Version 5.1 for an Upgrade, go to the Download section.
Upgrading from Archiware P4
Files stored with P4 can be restored through P5, but only with reduced functionality and without search capabilities.
P5 Backup: After having upgraded to P5 Backup, a full backup run is required.
Please be sure to schedule backup time and capacity accordingly.
P5 Archive: P5 Archive requires a conversion of the P4 archive index. To do so, each archive index has to be converted within the administration section of P5. Depending on the size of the index as well as computing power, this process can take anything between minutes and hours.
For more details, please read the P5 Upgrade Guide.
FAQ - Upgrading to Archiware P5 Version 5.1
What is new in Archiware P5 Version 5.1?
Version 5.1 is an upgrade release and has identical features as Version 5.0.
More information about new features can be found on the new features list.
Which PresSTORE or Archiware P5 versions can directly upgrade to Version 5.1?
Only Version 4.4 and 5.0 can be upgraded directly to Version 5.1.
Older versions should be upgraded in steps, e.g. from Version 2 to 3 and then to Version 4.4.
For Details, please see the 4.4 Upgrade FAQ.
Who is entitled to an Upgrade free of charge?
The upgrade is free of charge for all customers who:
purchased or registered P4/P5 after April 30, 2012, or
had an existing Software Update Agreement (SUA) or active Software Maintenance on April 30th, 2013.
You can see when maintenance ends and if you are eligible for a free upgrade to a recently released version, by logging into the Archiware portal and selecting the installation Host ID.
How much does it cost to buy an Upgrade?
For older installations without valid Software Maintenance, the upgrade to P5 Version 5.3 can be purchased for 35 % of the current list price of the existing license.
Where can I get a quote for an Upgrade?
In order to receive a quote for an upgrade, please contact your local reseller or request one through the Archiware Portal.
Which preparations should be made before the Upgrade?
Make sure you meet the system requirements.
Make sure you are eligible for the required license (point 4) or request an upgrade quote (point 5).
For safety purposes, please make a copy of the installation directory.
Do I need new license keys for Version 5.1 and where can I get them?
Since the introduction of Version 4.3, the maintenance expiration date is part of the license key. All installations with an up-to-date key and a valid Software Update Agreement do not need a new license key.
Installations without an up-to-date key have to request one through the Archiware Portal.
What are the system requirements for P5 Version 5.1?
Please refer to the System Requirements section.
Which features of previous version are no longer available in P5 Version 5.1?
All functionalities of the previous version are still supported in Version 5.1.
What technical effort is required for the Upgrade?
The upgrade from version 4.4.x consists of the following steps:
Please make a copy of the P4 home folder.
The P5 installer automatically runs all necessary changes within the software and its configuration, but the index conversion still needs to be triggered manually.
P5 Backup: After the upgrade to P5 Backup a full backup run is required. Please be sure to schedule backup time and capacity accordingly.
P5 Archive requires a conversion of the archive index. To do so, each archive index has to be converted within the administration section of P5. Depending on the size of the index as well as computing power, this process can take anywhere between minutes and hours.
Do all clients/agents have to be upgraded to P5 Version 5.1 as well?
Yes, Version 5.1 has to be installed on all servers, workstations and virtual server agents.
Will all my settings remain intact when upgrading?
Yes, all settings remain intact when installing Version 5.1.
Is it possible to downgrade to a previous version after upgrading to P5 Version 5.1?
A downgrade is possible with the following limitations:
Changes made to the P5 configuration will not be available after the downgrade.
Files that were backed up or archived within P5 will not be available after the downgrade.
Once an index has been converted to P5, it will not be available after the downgrade.
If a downgrade is necessary, version 4.4. has to be reinstalled. Afterwards, the configuration
has to be restored from a previous run.
ARCHIWARE P5 Version 5.1.9
Windows
Server 2008R2/2012
Windows 7/8
63 MB
Linux
Kernel 2.6.4+ (x86) 32-Bit or
64-Bit with 32-Bit libraries
72 MB
Solaris
Sparc Solaris 2.8+
x86 Solaris 2.10+
72 MB