Archiware P5 Version 7.0
Find all relevant information and links
New 'Container' Storage Engine for Disk and Cloud
A real milestone in the evolution of P5, this brand new storage format, moving away from the virtual tape concept, multiple volumes are now replaced with single 'Storage Containers' in order to access disk and cloud storage. These containers are elastic, growing in size to accommodate data as needed, and optimized for interacting against cloud object storage.
They support multiple write/read streams in parallel without compromising performance. Additionally, they support fine-grained recycling of backup data over time, resulting in best-of-breed backup to cloud with cost saving through lower cloud storage space usage. Full details available here.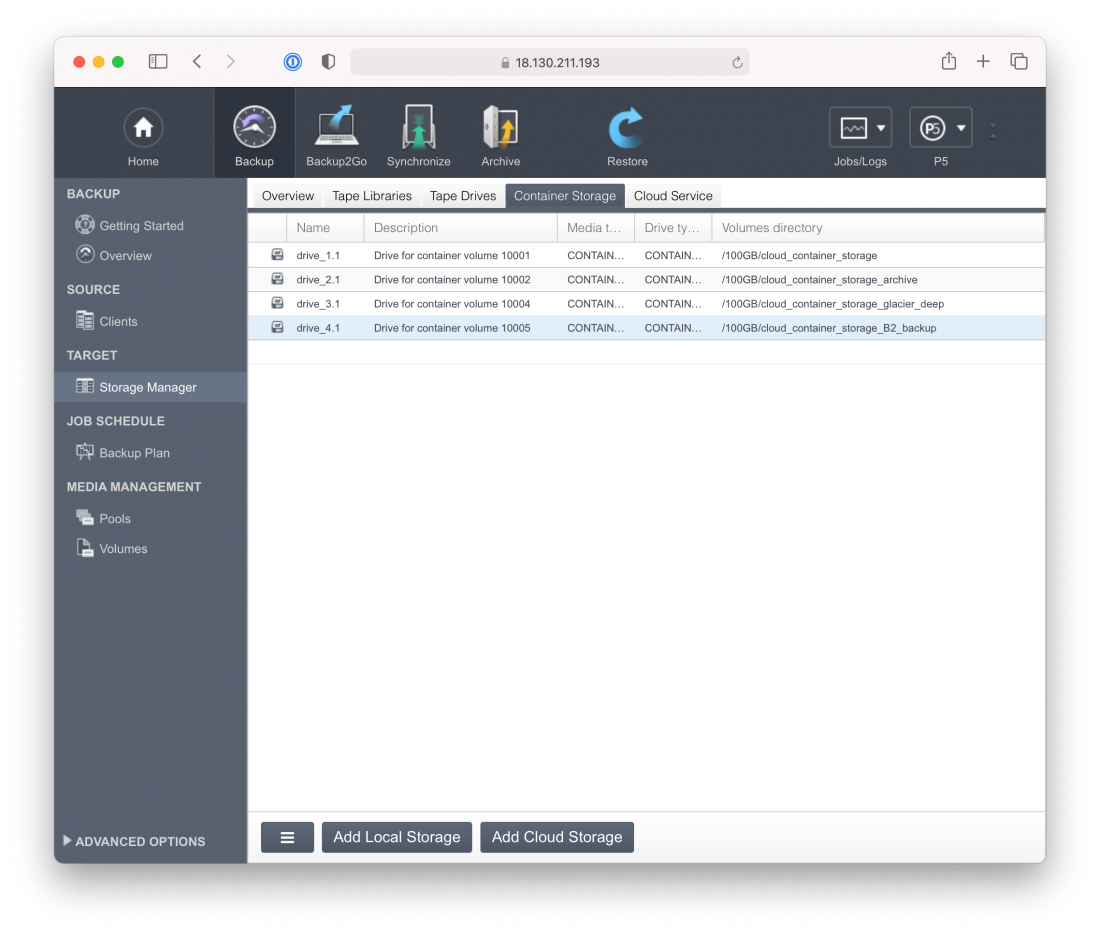 Simplified & Improved Storage Management
The administration required to configure disk and cloud storage is now much reduced, with a tab based storage manager consolidating tape, disk and cloud storage setup in one place.
Bare-Metal Recovery Fully Supported for Disk/Cloud
When using new container volumes, all P5 setup/config and backup indexes are automatically stored on disk/cloud with every job that runs. Full recovery of P5 server from disk/cloud storage now just a few clicks in the GUI.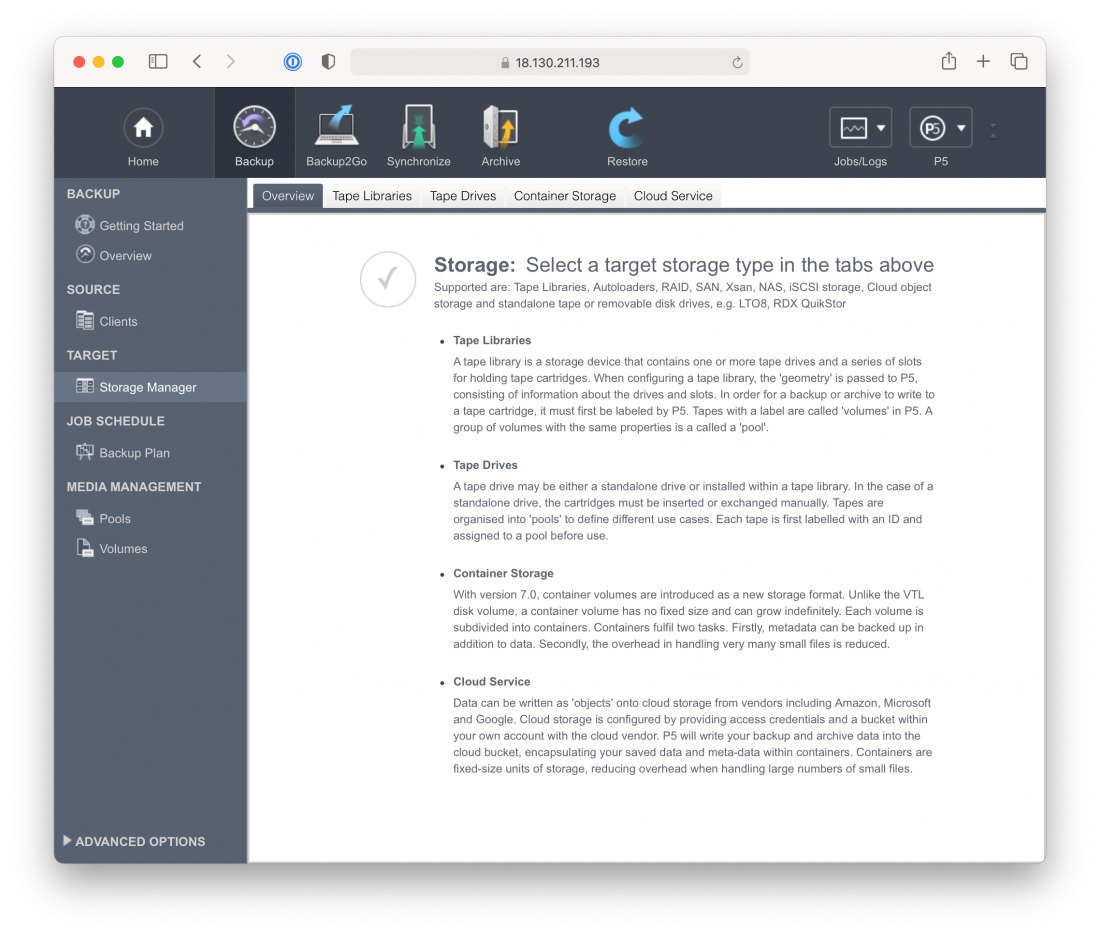 A tab-based storage manager consolidates tape, disk and cloud storage setup in one place.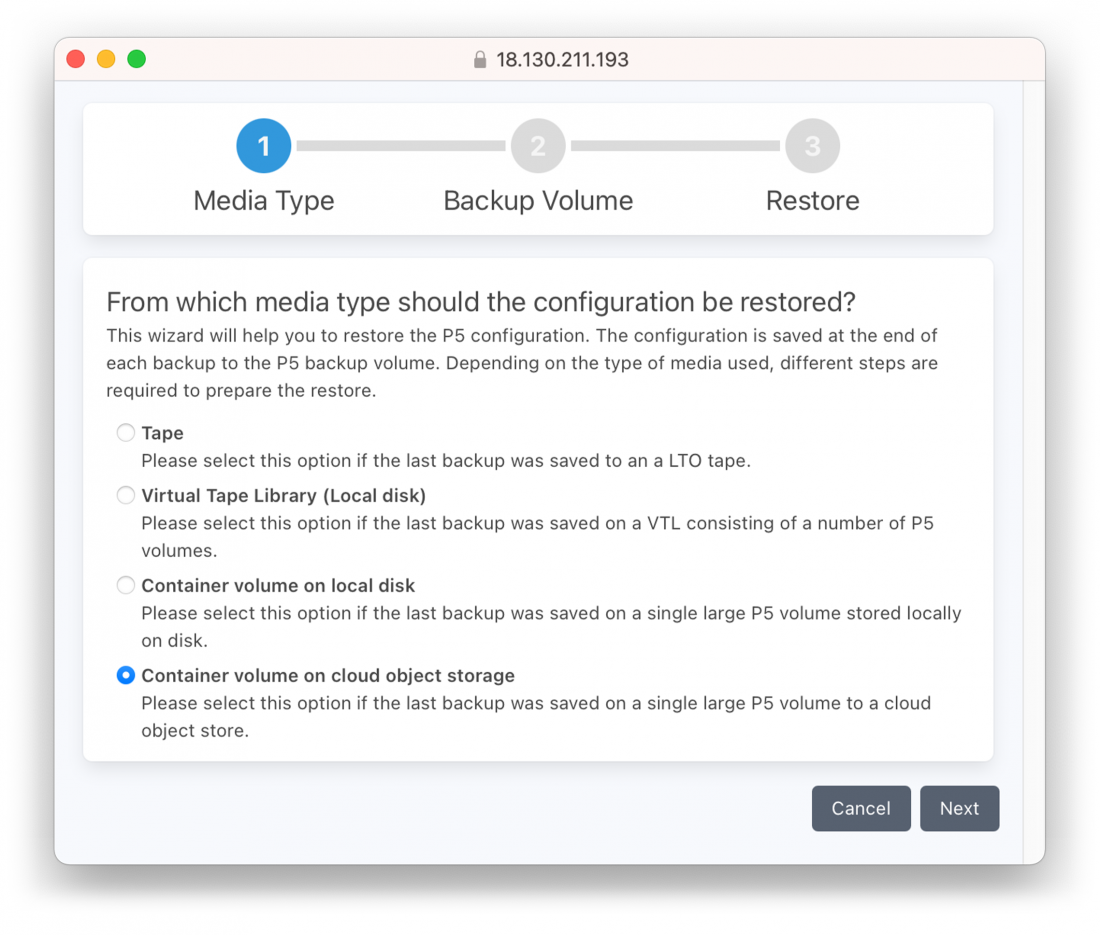 Fully recover the P5 server from disk/cloud storage within a few clicks.
Minimal Local 'Cache' Storage Usage When Writing to Cloud
Backup and archive to cloud object storage will now require a small fraction of the disk space previously required. Local disk space used only for preparation of data for upload.
Space is freed up at first opportunity for both writing and reading to cloud storage.
Enhanced compression with LZ4
P5 now uses this modern compression algorithm when writing to disk/cloud storage, resulting in smaller sizes, faster performance and less cloud storage being used. 2x - 3x compression benefit.
Improved S3 Glacier/Deep Archive Support
When archiving or backing up to S3, the 'Deep Archive' option is now fully supported. When restoring data, P5 will request all required objects at once and wait for cloud objects to become available.
Import of Foreign LTFS Volumes
This feature brings huge benefits for users with data stored on LTFS tapes. Manage LTFS tapes by importing them into P5 Archive, they will appear in the index of your choice, with full search across all volumes. Supports LTFS tapes written by P5 or 3rd party LTFS software. P5 will scan LTFS tape volumes, and add contents to the P5 archive index, data can then be restored across multiple tapes via the archive index. Supports tape libraries for import across multiple slots.
Easier Use of Cloud-Vendors Data-Transport Devices
When seeding archive data using an AWS Snowball, B2 Fireball or similar, P5 now provides a checkbox to suppress writing of data to the cloud object store directly. This removes previous attach/detach workflow and simplifies use of these devices.
LTFS Exchange Support on All Platforms
Simple formatting, reading and writing of LTFS volumes for import/export now available on all our supported P5 platforms, including MS Windows and FreeBSD.
Very Fast Verification of Written Data
Using xxHash 64 and 128-bit algorithms. Speeds up verification using checksums by 3x.
Saved Searches in Mini-MAM
When switching between search results in the archive index and browsing, previously executed search is retained, easing location of the data you're looking for. Previous 10 searches available from drop-down menu.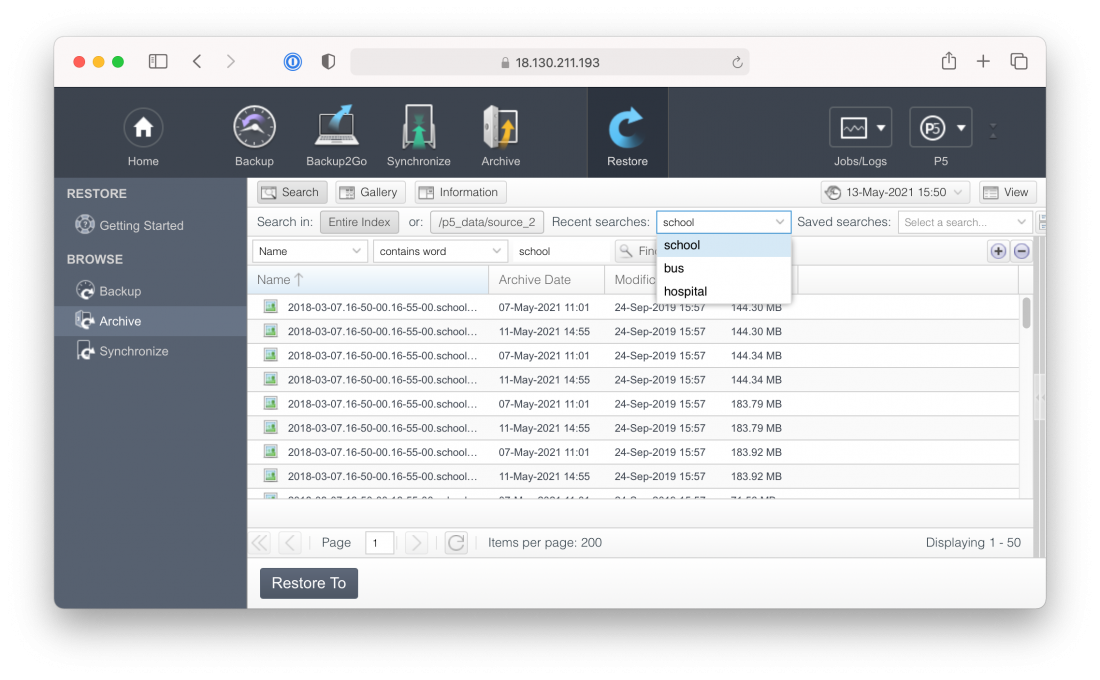 Locate saved searches using P5 Archive's mini-MAM archive.
True Incremental Cloud Backup
Full backups are no longer necessary when writing to cloud and disk storage. With P5 version 7, full backups are only required when writing to tape, to allow whole LTO tapes to be recycled and reused. When writing to cloud/disk storage using our new container volume storage, we have fine-grained removal of expired files and re-use of storage. The 'progressive' backup technique can be used indefinitely, resulting in faster and more efficient backup to cloud object storage.
Perform Dry-Run of a Backup
P5 will compare storage to be backed up with index and report total number of new/changed/moved files. Allows anticipation of the length of the required backup window and number of tapes/storage that will be required for the backup to complete.
Limit Backup Size on Target Storage
P5 Version 7 introduces a new option to limit the backup size on the target. This can be used to create a limited backup on a transfer appliance, such as Amazon Snowball, Backblaze Fireball or Wasabi Ball. This is necessary if the total backup size is more than one unit on the transfer appliance.
Rename Detection
Track renamed folders without re-save of contents
P5 Backup is now able to identify renamed folders with unchanged files inside and update index with new folder position without necessitating re-saving of files/folders contained within.
For example, if a top-level folder on a piece of storage were to be renamed, we avoid needing to re-save potentially many TB's inside, saving time and storage costs.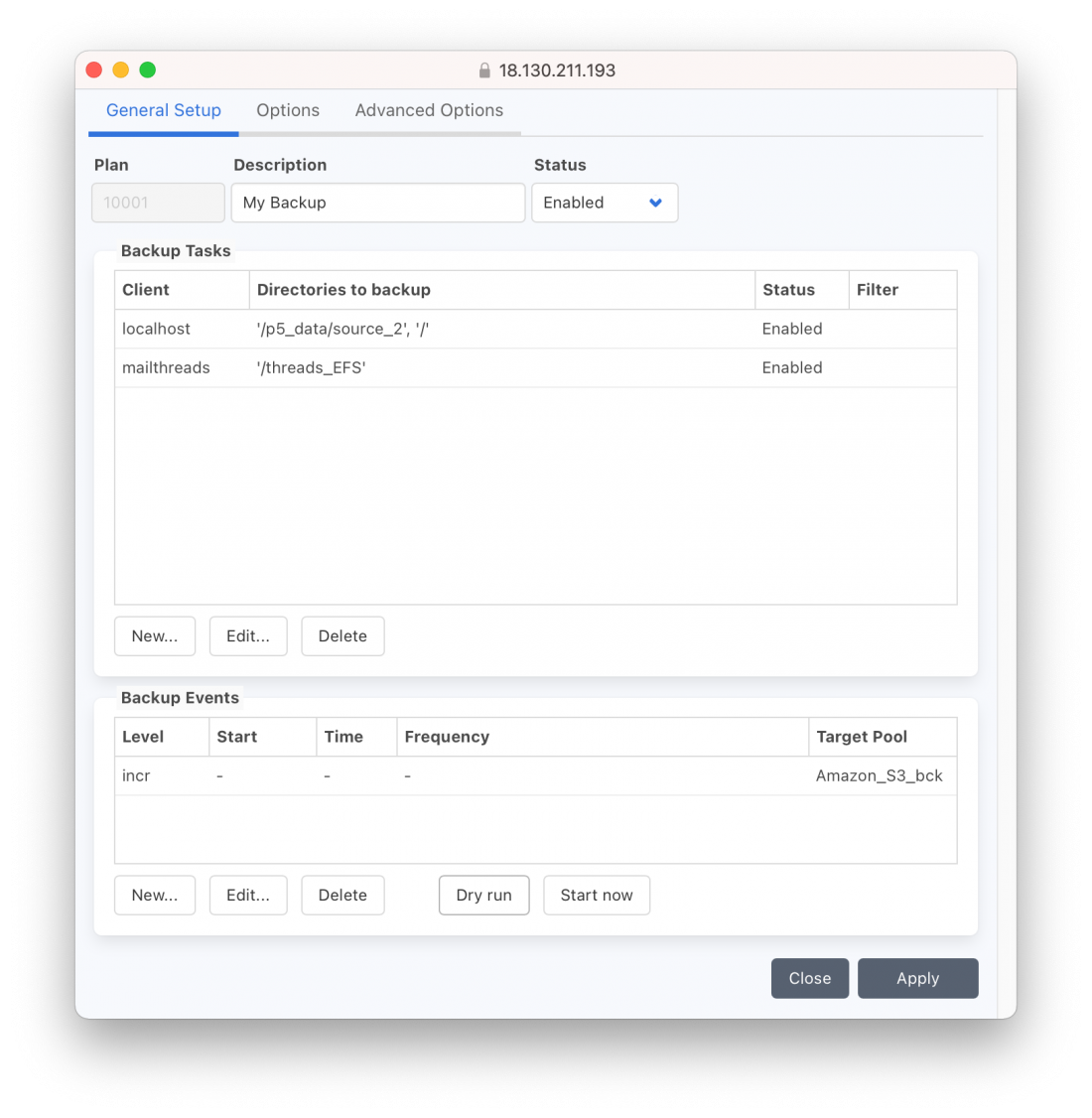 Perform a dry run of a backup.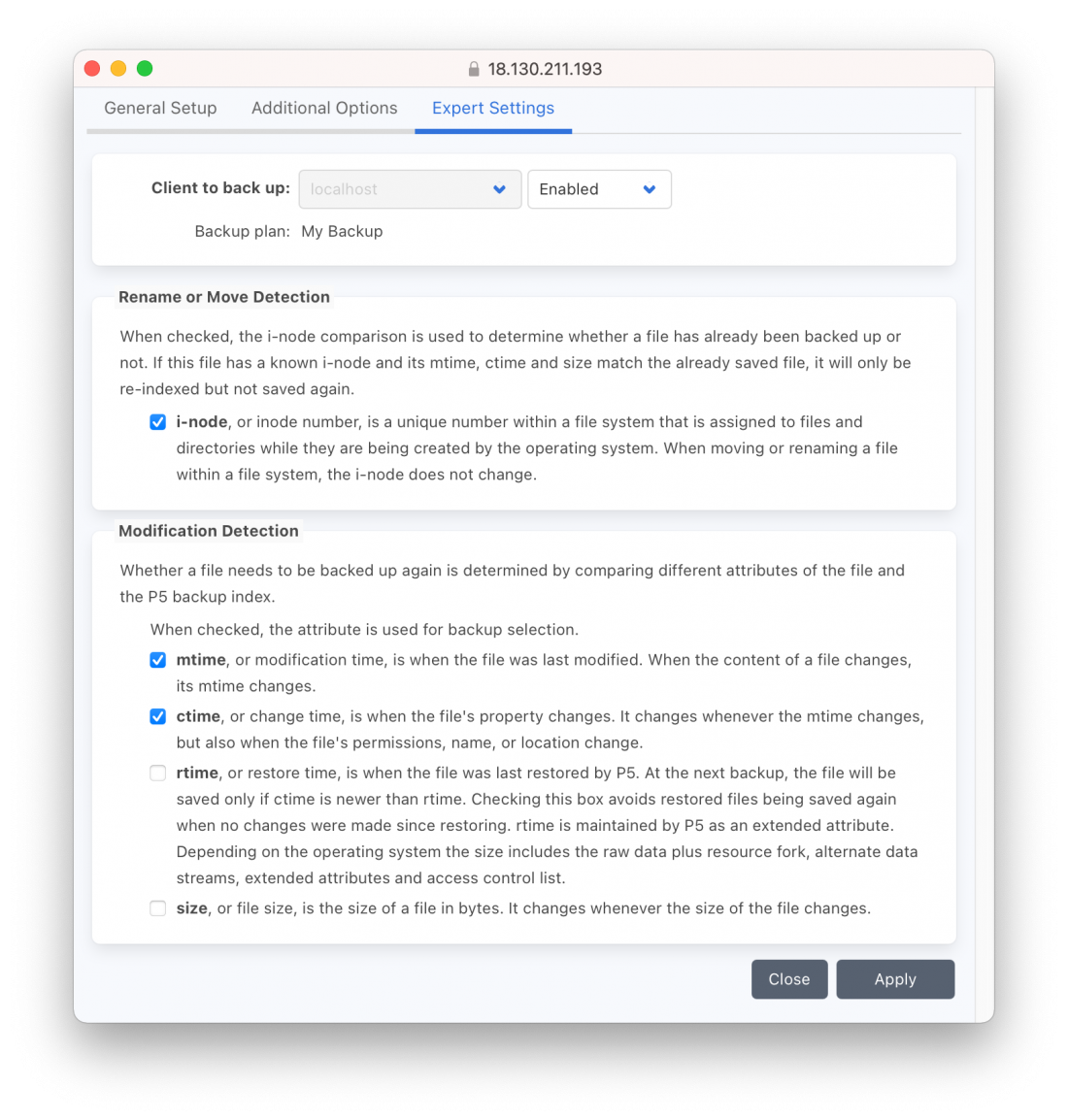 Track renamed folders without re-save of contents.
Scheduled Speed Throttling
Scheduler now permits per-event throttling. Throttle network bandwidth use during working hours, and allow full use of bandwidth overnight. Get your data replicated as fast as possible.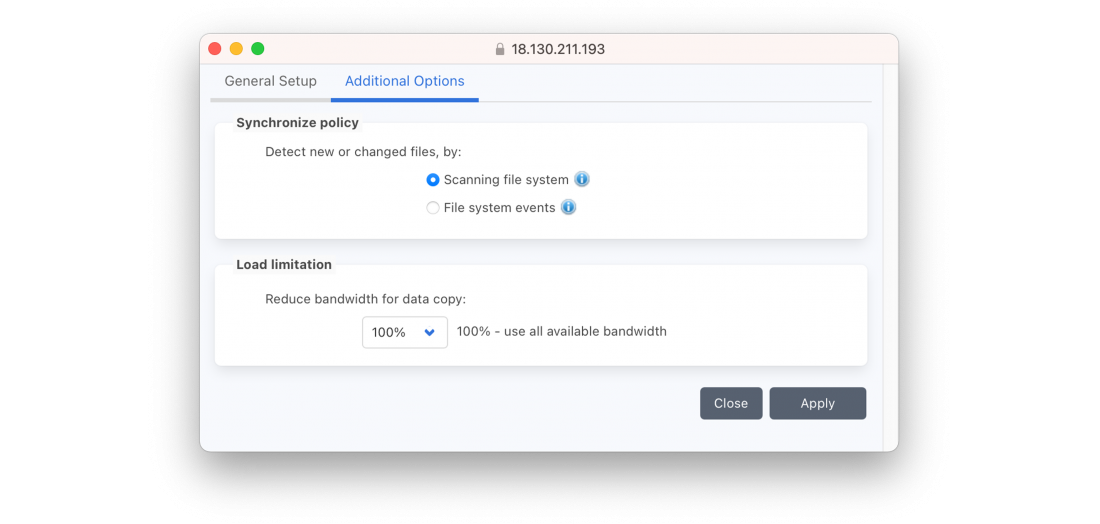 Requirements - Archiware P5 Version 7.0
Operating System Requirements
macOS X

Intel x86 (64-Bit)
macOSX 10.9 – 12.x
- Apple M1
macOSX 11.x – 12.x

Limitations: 
- Backup2Go Server is not supported 
(see Update FAQ for details)

Windows

Server 2012R2
Server 2016
Server 2019
Windows 8.1, 10
Please read before installing!
Limitations: 
- Backup2Go Server is not supported (see Update FAQ for details)

Linux

Intel/AMD x86 64-Bit systems with glibc version 2.17 are supported, including:
- OpenSuSE 13.2+ / SLES 12.5 +
- CentOS 7.10+ / RHEL 7.9+
- Ubuntu 14+
- Debian 8+

For B2G repository on btrfs, btrfs 0.19+ is required
For B2G repository on zfs, zfs 0.7+ is required
Limitations:
- As Backup2Go Server Filesystems: Btrfs 0.19+, ZFS 0.7.0+

FreeBSD

Version 12, 13
Intel/AMD x86 64-Bit CPU

Synology

DSM operating system 5.2+ – 7
Intel/AMD x86 64-Bit CPU
Limitations:
- As Backup2Go Server Filesystems: Btrfs 0.19+, ZFS 0.7.0+

QNAP

QTS 4.3+, 5.0+
QTS hero
QTScloud
Intel/AMD x86 64-Bit CPU

NETGEAR
ReadyNAS OS 6.6.0 +
Intel/AMD x86 64-Bit CPU
Virtualization
x86 – VMware, Parallels, Linux-Xen, Hyper-V
Operating Systems in Client-Only Mode
Solaris

Solaris 10 1/13 s10x_u11wos_24a X86 
(64-Bit only)
Note: Language package Unicode UTF-8 required; Cloud services not supported
client-only mode as of version 5.6.2
(See "Discontinuations" for details)
Space requirements
Memory
2 GB+ available
Hard disk
1 GB for Installation + variable
(for backup/archive indexes)
Browser Requirements
| | |
| --- | --- |
| Safari | 12+ |
| Firefox | 60+ |
| Chrome | 64+ |
| Internet Explorer | 11+ |
Compatibilites - Archiware P5 Version 7.0
Supported Tape Technologies
LTO-1, LTO-2, LTO-3, LTO-4, LTO-5, LTO-6, LTO-7, LTO-8, LTO-9
S-AIT 1, 2, 3, 4
AIT 1, 2, 3, 4, 5, 6
DLT4000-8000
SDLT220-600
DLT-S4
VXA (on request)
8mm
DAT
Disk Storage
Direct attached storage (DAS)
FreeNAS
HyperFS
MetaSAN 4.5.0.0 (Windows/Linux supported from 4.6.0.0)
QNAP NAS
RAID
Removable Disk (RDX QuikStor)
Scale Logic
Storage area network (SAN)
StorNext
Synology NAS (as of P5 Version 5.3.3)
SSD
Tiger Store
Vtrak FS
XSAN
Proprietary File Systems
Helios (UB, UB+, UB2, UB64)
Xinet V14
Netatalk 2
Supported Interfaces
SAS
SCSI
iSCSI
FibreChannel
Firewire
USB
SATA
eSATA
Thunderbolt
Supported Cloud Services
Alibaba Object Storage Service
Amazon S3
Amazon Snowball
Amazon Glacier
Backblaze B2
Generic S3
Google Cloud Storage
Huawei (as generic S3)
Microsoft Azure
MinIO (as generic S3)
Oracle Cloud Storage
OrionVM (as generic S3)
RSTOR Space
Segate Lyve Cloud
Viking Cloud Native Obsidian
Wasabi Cloud Storage
Supported platforms include macOS X, Windows, Linux, FreeBSD, QNAP, Synology, and NETGEAR
Cloud Object Storage Classes
Amazon S3: S3 Standard, S3 Intelligent-Tiering, S3 Standard-IA, S3 One Zone-IA
Amazon Glacier: Standard, Deep Archive
Google: Standard, Nearline, Coldline
Microsoft Azure: Standard Hot, Cool
MAM/DAM Integrations
axle
Final Cut Server
Canto Cumulus
CANTEMO
CatDV
cavok (Peak-14)
DALIM ES
Editshare
empress eMAM
FocalPoint Server
KeyFlow ADAMS
KYNO
Metus
Primestream FORK
Projective Strawberry
Xinet
Supported Tape Library Vendors
Actidata
BDT
Dell
HPE
IBM
MagStor
mLogic
NEC
Oracle/StorageTek
OWC
Overland-Tandberg
Qualstar
Quantum
Spectra Logic
Supported Hardware Manufacturers
Accusys
Apple
BDT
Bright Technologies Astella
DDP
Dell
Drobo (as a disk)
Facilis
FAST LTA
G-Technology
HPE
IBM
LaCie
mLogic
NEC
NetApp
Netgear
Object Matrix
Overland-Tandberg
Promise
QNAP (as of P5 version 5.5.3)
Qualstar
Quantum
Samsung
Scale Logic
Sonnet
Spectra Logic
Starline
Sun/Oracle
Synology (as of P5 Version 5.3.3)
ToolsOnAir just:store
FAQ - Updating to Archiware P5 Version 7.0
What is new in Archiware P5 Version 7.0?
For more information about Version 7.0, please refer to the New Features page. Important information about platform and module limitations can be found on the Discontinuations page.
Which PresSTORE or Archiware P5 versions can directly update to Version 7.0?
Only version 6.x can be updated directly to Version 7.0.
Version 5.x needs to be updated to Version 6.1 first. 
Version 4.4 needs to be updated to Version 5.1 first. 
For more details please refer to Upgrade FAQ 5.1.
Older versions need to be updated to Version 4.4.x. first. 
For more details please refer to Upgrade FAQ 4.4.
Note: Support for PresSTORE 4 (P4) backup and archive indexes is discontinued in version P5 5.6 and later.
Who is entitled to an Update free of charge?
The update is free of charge for all customers who:
purchased or registered P5 after July 20th, 2020 or
had active Software Maintenance on July 20th, 2021.
Validity of the Software Maintenance Agreements can be verified in the Archiware Portal.
How much does it cost to update an installation when Software Maintenance is expired?
Updates are available through the Archiware Software Maintenance. For all licenses that ran out of maintenance, a reactivation of Software Maintenance is possible. It covers two major aspects:
1. access to the latest software version, and
2. access to manufacturer support. Prices depend on how long the maintenance is expired:
Expiration <1 year:  35% of the license price according to the current price list
Expiration <2 years: 60% of the license price according to the current price list
Expiration <3 years: 70% of the license price according to the current price list
The reactivated maintenance is valid for 12 months, starting on the 1st of the month following the Archiware invoice date. For more details about Archiware Software Maintenance & Support please refer to the Maintenance & Support.
Where can I get a quote for reactivation of Archiware Software Maintenance?
In order to receive a Software Maintenance reactivation quote, please contact your local reseller or request one through the Archiware Portal.
Which preparations should be made before the Update?
Make sure you meet the System Requirements.
Make sure that a required platform or function has not been discontinued.
Make sure you are eligible for the required license (point 3/4) or request a corresponding quote (point 5).
Read the Upgrade FAQ for important information regarding any necessary changes in the affected installations.
For safety purposes, please make a copy of the installation directory!
Do I need new license keys for the Update and where can I get them?
Since the introduction of Version 4.3, the maintenance expiration date is part of the license key.
All installations with an up-to-date key and a valid Software Maintenance Agreement do not need a new license key.
Installations without an up-to-date key have to request one through the Archiware Portal.
What are the system requirements for P5 Version 7.0?
On this dedicated page, you will find all information about System Requirements for P5 Version 7.0.
Which features of previous versions are no longer available in P5 Version 7.0?
On this dedicated page, you will find all information about Discontinuations for P5 Version 7.0.
Please read the important notes in the Upgrade FAQ for information regarding any necessary changes in the affected installations.
What technical effort is required for the Update?
An update from Version 6.x installation is comparable to a new installation.
The installer automatically detects an existing version and executes all necessary changes in the application and its configuration. Please check if it might be necessary to take precautions for a downgrade (see point 13). For security reasons, please create a copy of your installation directory.
Important Note for updating from 5.2 and previous releases: In some rare cases, a full backup may be necessary for P5 Backup. Therefore, the first backup after the upgrade will require the appropriate amount of time and backup capacity. The reason for this is that any missing drive information is mandatory in Version 6.0 and higher.
Do all clients/agents have to be updated to P5 Version 7.0 as well?
Yes, Version 7.0 has to be installed on all servers, workstations and virtual server agents. Please read the Important Notes in the Upgrade FAQ for information regarding any necessary changes in the affected installations.
Will all my settings remain intact when updating?
Yes, all settings remain intact when installing P5 Version 7.0.
Is it possible to downgrade to a previous version after updating to P5 Version 7.0?
After upgrading from Version 6.x, a downgrade back to 6.x is possible with the following limitation:
  • All P5 Server and Workstation Agents have to be downgraded as well
  • For P5 Backup and P5 Archive, a downgrade is not possible.
    Note: Please refer to the necessary preparations described in point 6. 
    In case it is necessary to re-activate Version 6.x, this can only be done through a new installation
    and a subsequent restore of the configuration from a security copy made previously.
  • For P5 Synchronize and P5 Backup2Go, a downgrade back is possible.
Upgrading from Archiware P4
Files stored with P4 can be restored through P5, but only with reduced functionality and without search capabilities.
P5 Backup: After having upgraded to P5 Backup, a full backup run is required.
Please be sure to schedule backup time and capacity accordingly.
P5 Archive: P5 Archive requires a conversion of the P4 archive index. To do so, each archive index has to be converted within the administration section of P5. Depending on the size of the index as well as computing power, this process can take anything between minutes and hours.
For more details, please read the P5 Upgrade Guide.
ARCHIWARE P5 Version 7.0.7 - Server & Client
ARCHIWARE P5 Version 7.0.7 - Client only!
P5 Companion App Version 1.1
macOS
Intel x86 (64-Bit)
OSX 10.10
Windows
Windows 7+ Intel Pentium 4 processor or later that''s SSE2 capable