Archiware PresSTORE P4 Version 4.4
Find all relevant information and links
New Index Technology: SQLite
Working on the index is an investment in the future. It will open new possibilities for the future, such as accessing meta data from outside PresSTORE.
PresSTORE 4.4 is making a transition to SQLite, an up-to-date and scalable technology to manage its internal databases. The PresSTORE 4.4 configuration database has been moved to SQLite.
The next step will come with P5, when Backup and Archive indexes (catalogs) will also employ this new technology.
The two types of databases will currently coexist. In P4 Backup, the transition will happen over time, as the index is constantly rewritten. In P4 Archive, only a new Archive index will use the new technology. The transfer from "old" to "new" index will also be introduced with P5.
Easy Tape Library Installation
The new LTO tape drive generation has significant cost advantages, especially for long time storage. Thus P4 ties in seamlessly with this technology, making the installation process faster and easier.
The automated tape library configurator makes installing libraries simple. Current tape library models can be added quickly, automatically recognizing model, slots and drives. This results in a solid, professional setup.
Display Storage Pool Capacity / Customizable Overviews
Admins can now easily see statistics from recent runs and whether upcoming jobs have sufficient storage space available. The new overview option displays the capacity of storage pools for archive and backup jobs.
This new feature introduces customizable overviews with adjustable tables and filters. Especially in larger P4 installations, displaying information in a simple and easy manner can be crucial. An example would be the need to show only volumes of a certain pool, sorted by recycling date.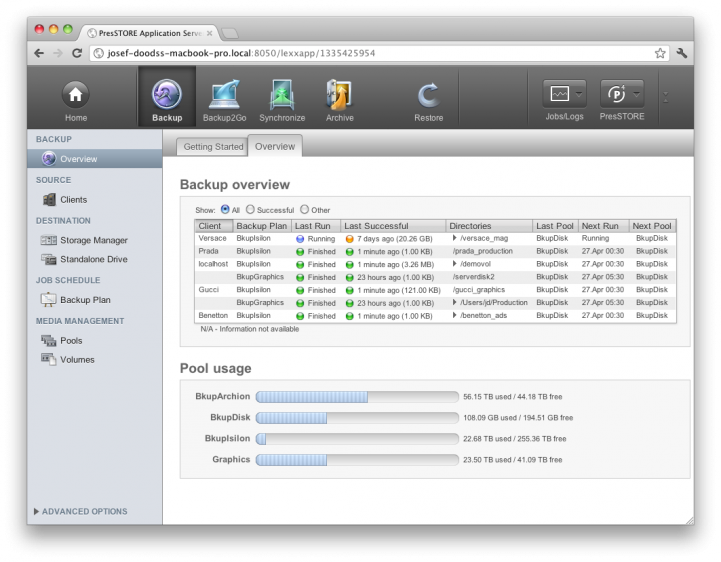 Display of storage pool capacity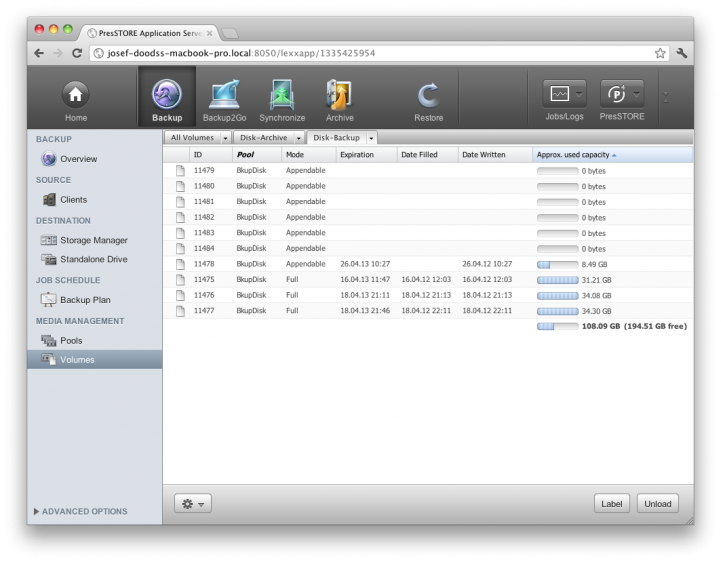 Job Report in a Timeline / Simplified License Import
The amount of data, as well as the run time, is displayed in a timeline. This can help to identify a bottleneck early, such as sudden spikes in data, problems with network capacities, tapes or other hardware.
Licenses can be imported easily through a license file and no longer have to be added manually.
Requirements - Archiware PresSTORE Version 4.4
Operating System Requirements
macOS
PPC OSX 10.4, 10.5, Intel 10.4 - 10.8
Windows

2003, 2008, XP, Vista, Windows 7
as Backup2Go Server:
Windows 2008R2 and Windows 7

Linux

Kernel 2.6.4+ (x86) 32-Bit or 64-Bit libs
For FS-events with inotify, Kernel 2.6.13+

Solaris
Sparc Solaris 2.8+, x86 Solaris 2.10+.
Note:
Language package Unicode UTF-8 required
Virtualization
x86 – VMware, Parallels, Xen, Hyper-V
Hardware requirements
Memory
1 GB+
Hard disk
200 MB for Installation + variable
(for backup/archive indexes)
Browser Requirements
| | |
| --- | --- |
| Safari | 5.1 + |
| Firefox | 3.5+ |
| Chrome | 4+ |
| Internet Explorer | 9+ |
Compatibilities - Archiware PresSTORE Version 4.4
Supported Tape Technologies
LTO-1, LTO-2, LTO-3, LTO-4, LTO-5, LTO-6
S-AIT 1, 2, 3, 4
AIT 1, 2, 3, 4, 5, 6
DLT4000-8000
SDLT220-600
DLT-S4
VXA (on request)
8mm
DAT
Disk Storage
Direct attached storage (DAS)
Storage area network (SAN)
XSAN
RAID
MetaSAN 4.0.0
Removable Disk (RDX QuikStor)
Proprietary File Systems
Helios (UB /Helios 3 or later)
UB2 supported with 4.3 or later
Xinet V14
Netatalk
Supported Interfaces
SAS
SCSI
iSCSI
FibreChannel
Firewire
USB
SATA
eSATA
Thunderbolt
3rd Party Integrations
Final Cut Server
Canto Cumulus
CANTEMO
CatDV
Supported Tape Library Vendors
Dell
HPE
IBM
NEC
Oracle/Sun/StorageTek
Overland
Qualstar
Quantum
Sony (AIT)
Sprectra Logic
Tandberg Data
Supported Hardware Manufacturers
Accusys (Exabyte)
Apple
Dell
Drobo (as a disk)
HPE
IBM
LaCie
NEC
Netgear
Overland
Promise
Qualstar
Quantum
Samsung
Sonnet
Sony (AIT)
Spectra Logic
Sun/Oracle
Tandberg Data
Please read these FAQ carefully before upgrading to Version 4.4!
To download Archiware P5 Version 4.4 for an Upgrade, please use the Download section.
FAQ - Upgrading to Archiware P5 Version 4.4
What is new in Archiware P5 Version 4.4?
For more information about Version 4.4, please refer to the New Features section.
Which PresSTORE versions can directly upgrade to Version 4.4?
Only PresSTORE Version 3.x and 4.x can be upgraded directly to 4.4. Older versions should be upgraded in steps, e.g. from Version 2 to 3 and then to Version 4.4.
Who is entitled to an Upgrade free of charge?
The upgrade is free of charge for all customers who:
purchased or registered P4 after May 29th, 2012, or
had an existing Software Update Agreement (SUA) or active Software Maintenance on May 29th, 2012.
You can see when maintenance ends and if you are eligible for a free upgrade to a recently released version, by logging into the Archiware portal and selecting the installation Host ID.
How much does it cost to buy an Upgrade?
For older installations without valid Software Maintenance, the upgrade to P4 Version 4.4 can be purchased for 35 % of the current list price of the existing license.
Where can I get a quote for an Upgrade?
In order to receive a quote for an upgrade, please contact your local reseller or request one through the Archiware Portal.
Which preparations should be made before the Upgrade?
Make sure you meet the system requirements.
Make sure you do not require any of the features no longer supported in version 4.4 (see point 8).
Make sure you are eligible for the required license (point 7) or request an upgrade quote (point 5).
For 

safety

 purposes, please make a copy of the installation directory!
Which installations need new license keys for P4.4 and where can I get them?
All installations before Version 4.3
Installations with Version 4.3 with a "Maintenance Expire" date before June 5th, 2012.
Installations without an up-to-date key have to request one through the Archiware Portal.
What are the system requirements for P5 Version 4.4?
Please refer to the System Requirements section.
Which features of previous version are no longer available in P5 Version 4.4?
All functionalities of the previous version are still supported in Version 4.4.
Note: When upgrading from 3.x, the following features will no longer be available:
Archive, Restore and Download BASKET
Indexing the archive without a date prefix in the file structure
Email reporting of job protocols per plan
Starting backup jobs sequentially is NOT supported anymore (one plan follows another)
What technical effort is required for the Upgrade?
Upgrading from Version 4.x is comparable to a new installation. The PresSTORE installer recognizes the installed version and runs all changes for within the software automatically.
When upgrading from Version 3.x, you cannot downgrade back to our old version anymore. It is therefore recommended to copy PresSTORE's installation index, before running the upgrade.
When installing on a windows platform, please uninstall the old PresSTORE version first before installing the new one. The configuration will stay intact.
Do all clients/agents have to be upgraded to P5 Version 4.4 as well?
Yes, Version 4.4 has to be installed on all servers, workstations and virtual server agents.
Will all my settings remain intact when upgrading?
Yes, all settings remain intact when installing Version 4.4.
Is it possible to downgrade to a previous version after upgrading to P5 Version 4.4?
Upgrading from Version 3.x to Version 4.4 is irreversible. In case a downgrade needs to be done, a complete new installation followed by a configuration restore from an older backup volume would be required.
What does the new license expiration date mean?
This date will simplify updates to future Versions. It will not be necessary to get new license keys, as long as an installation/license is covered by a Software Update Agreement (SUA) or pre-purchased Software Maintenance (SM).
The first year of Software Update Agreement is included free of charge. Afterwards, the license can be covered either by an auto renewal contract, or by purchasing a 12 or 24 month prepaid agreement through a reseller. An installation is entitled to free version upgrades to subsequent versions released within themaintenance duration.
Archiware P5 Version 4.4.14
macOS
PPC OS X 10.4, 10.5
Intel 10.4 – 10.8
260 MB
Windows
2003, 2008, XP, Vista, Windows 7
64 MB
Linux
Kernel 2.6.4+ (x86) 32bit or
64bit with 32bit libs
61 MB
Solaris
Sparc Solaris 2.8+
x86 Solaris 2.10+
61 MB