Professional Media Archive on LTO

Ideal Combination – Easy Solution
Many companies discover the value of their data only after losing them. A US study shows that more than 80 % of corporations that experience major data loss have to file for bankruptcy within two years. But automated data backup is easy to achieve.
Advantages of the Solution
Browse & Search Media with Previews/Proxies
User Restore
One Solution for all Platforms
Customizable Metadata fields
Long-term storage, LTO certified for 30 years
Combine with P5 Backup for daily server backup
Tape cloning for maximum security & off-site storage
Parallelization for speed and scalability
Search assets by keyword
In addition to the default search parameters, you can add custom metadata to individualize your data storage. You can include categories such as time of day, lens or film location and thus locate and re-use your data more quickly and effectively.
Search assets with previews
P5 Archive has a direct integration with FFmpeg and ImageMagick and can create low resolution previews and proxies for all common video and audio formats. Since previews are stored on your primary storage, they are available anytime for browsing and searching.
Customized end user access
P5 Archive can create different login areas that ensure access to certain data for specified user groups. Different users can be granted access and restore rights only for "their" part of the archive. P5 uses a familiar "shopping cart" checkout scheme to allow users to restore their assets without IT (administrator) intervention.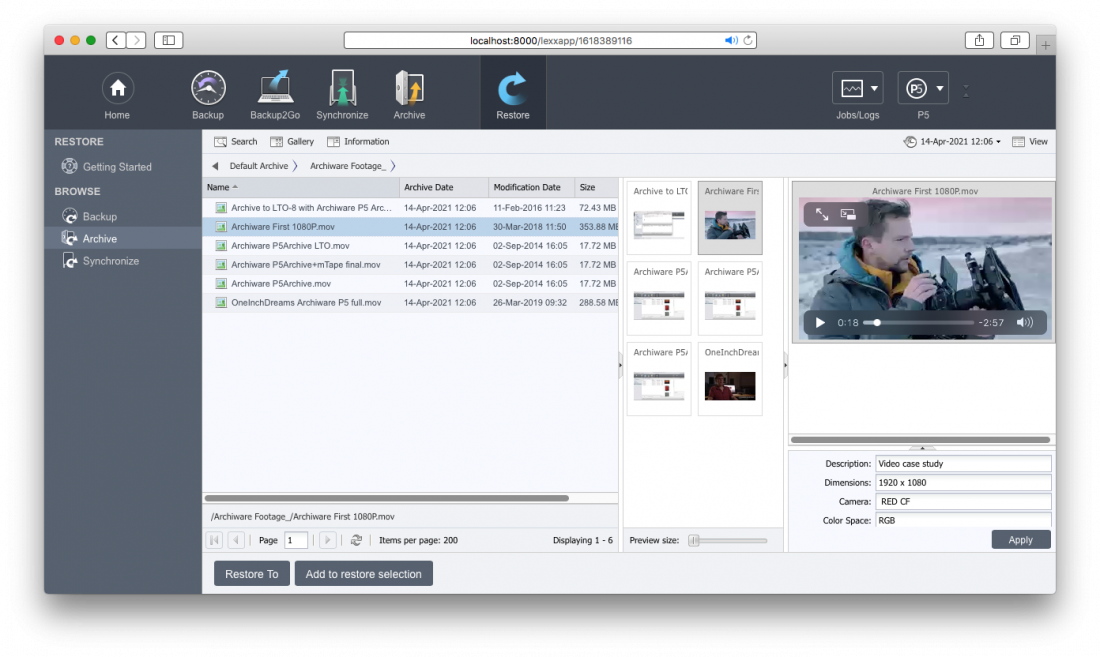 The P5 Archive metadata and preview catalogue
Backup with Overland-Tandberg Storage and Archiware P5
Overland-Tandberg's hardware and Archiware's P5 combined offer automatic Backup improving security while making life easier. Access and configuration via browser make it flexible and offer insight wherever you are. Archiware P5 supports all Overland-Tandberg Storage Libraries making it the ideal combination for saving your data. Save money by using the library for Backup and Archive in one setup.
Example: 10 Workstations + 4 Servers
The combination of an Overland-Tandberg NEOs or NEOxl Tape Library and Archiware P5 Studio Edition offers automated Workstation + Server Backup. The Library leaves plenty of room for growth (e.g. Overland-Tandberg NEOxl, from 60 to 560 slots). Maximum security for your company's data is achieved by storing tapes off-site. The combination of disk and tape Backup delivers optimal workflow security.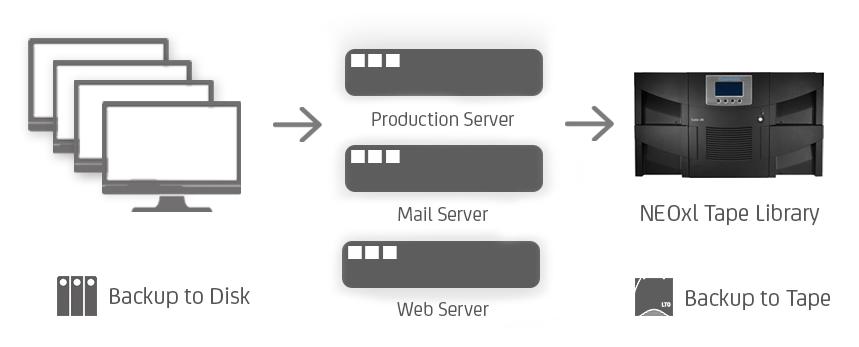 Production Solution with P5 Archive
Example: 1 Archive Server + 1 LTO Tape Library, 5 Servers, Disk2Disk2Tape
Fail-over + Backup + Archive combined provide a strong protection for your workflow. Cloning with Synchronize gives you an uninterrupted production. Archiware P5 works with all major storage components. Full support of SAN is integrated and gives you maximum speed.
Archiware P5 Backup writes to tapes that can be taken off-site to increase security. Archiware P5 Archive takes load off your server while creating easy access to completed productions and assets. The two tape drives of the Overland-Tandberg NEOs/NEOxl double throughput for Backup and additionally allow cloning the archive for off-site storage with maximum security.

Enhanced LTFS Support with P5 Archive
Archiware developed its own LTFS driver to provide an optimized, efficient and robust LTFS service.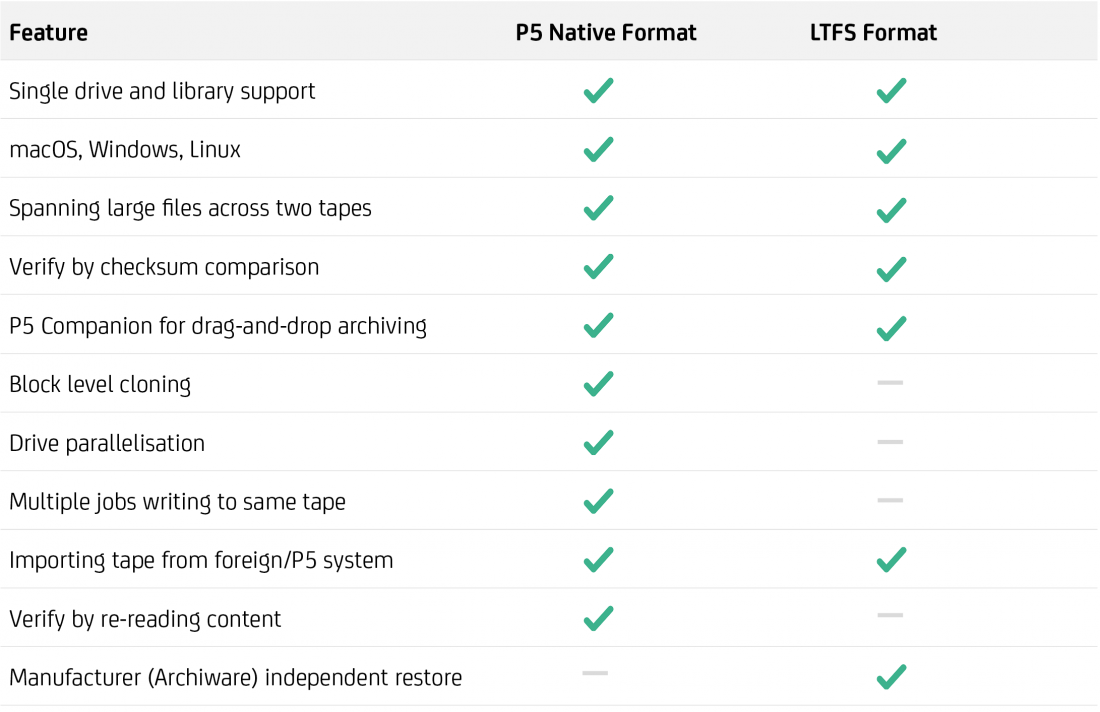 LTO-9
Speed
up to 4

00 MB/s

 uncompressed
Capacity

18,0 TB

 uncompressed
Security
Servo Tracks, Verify, Error Correction, Auto Speed
Lifespan
Certified for 

30 Years

Off-site storage
Simple, reliable, cost-effective
LTO-8
| | |
| --- | --- |
| Speed | up to 360 MB/s uncompressed |
| Capacity | 12,0 TB uncompressed |
| Security | Servo Tracks, Verify, Error Correction, Auto Speed |
| Lifespan | Certified for 30 Years |
| Off-site storage | Simple, reliable, cost-effective |
Download PDF
Solution Overland-Tandberg EN
Download PDF
Solution Overland-Tandberg US letter
Download 30-Day free trial
blue