Supporting Faith -
P5 for Houses of Worship
Houses of Worship are embracing digitization
A church today faces many challenges, but also the amazing chance of reaching a growing audience of followers. The congreation is no longer local, and reaching the fellowship around the clock, on regional, national and international level needs technology and media. 
Challenges in a changing media landscape
Broadcast quality recordings of ceremonies and other events serve as reference, themed programs, and increases fundraising opportunities. Graphics, sacred writings and lyrics just add more files and increase storage needs. This growing number of files, whether it's administrative data or media, needs protection to preserve them and keep them accessible. Archiware P5 helps with this and supports building a thorough storage strategy. Many church customers rely on the ease-of-use, flexibility and scalability of Archiware P5 to protect their data.
There are two distinctive methods of protecting data: Backup, which is the replication of data that is still part of daily production. And Archive, the long-term preservation of files that are no longer required in daily production but still need to be kept for reference, re-use or compliance. Both methods are essential.
The following table lists the main differences between the two concepts. To find out more about the modules in the Archiware P5 suite, take a look at the pages for P5 Backup and P5 Archive.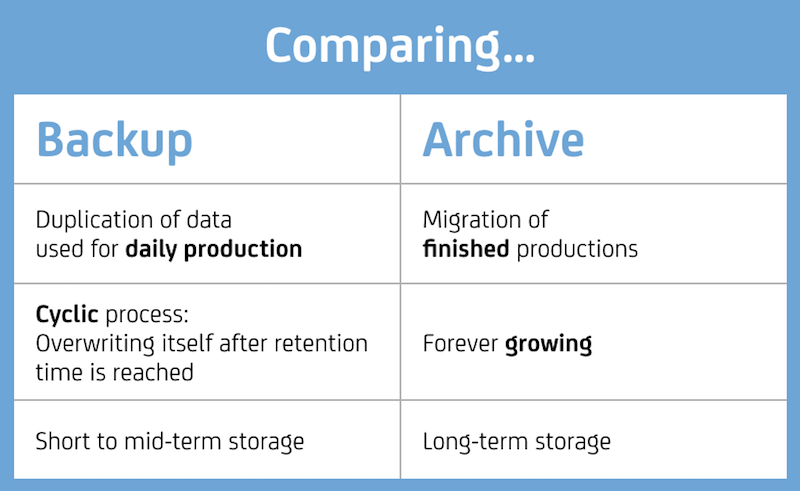 House of Worship Data Backup and Replication
A solid backup or replication of the files that are still being edited and part of daily production is a must. To back up data, Archiware P5 offers two products: P5 Synchornize and P5 Backup. P5 Synchronize is for replication of time critical data when immediate availability is key and there might be no tolerance for a restore time. In this case, a failover mechanism is indispensable. P5 Synchronize provides this by cloning files to a secondary storage. High performance SAN systems are supported as well as NAS Systems by Synology, QNAP and NetGear.
For less time critical data or when Tape or Cloud is the sotrage of choice, P5 Backup comes in. The retention time that is specified by the user guarantees that files are available as long as they are needed. To search for and restore files, P5 Backup offers an easy-to-use browser interface. When using LTO tape, P5 Backup supports all vendors of tape drives and libraries. Additionally, tape cloning for maximum security and tape parallelisation for maximum throughput are built in.
House of Worship Media Archive
When retaining files for years or even decades, P5 Archive is the go-to robust archive software. Easy re-use and reference for anniversaries or specific edits requires a repository of all recorded ceremonies and events. P5 Archive with its mini-MAM features helps to find files easily for reference and re-purposing. 
Customisable metadata fields and menus allow building an individual metadata schema that support searches for any relevant criteria, from descriptive to technical metadata.
P5 Archive supports disk, tape and cloud storage for the archive.

When using tape, P5 supports tape drives and libraries from virtually any vendor. Additionally, tape cloning for maximum security (and off-site storage) and tape parallelisation for maximum throughput are built in. Migrating from one LTO generation to a newer one is supported and handled by P5 Archive.
The P5 Archive restore catalogue
Read about the P5 Desktop Edition
grey