Free with any P5 Archive license
Drag-and-drop to archive and restore with P5 Archive
P5 Companion is a desktop application for Windows, macOS and Linux that allows files from local or shared storage to be archived and restored by simple drag-and-drop operations. Data is archived and restored via communication with a P5 Server running the P5 Archive software. P5 Archive is able to archive files to either disk storage, LTO tape or to one of a variety of cloud storage platforms.
Drag-and-drop folders from local or network storage to archive to tape, disk or cloud
Runs on any macOS, Windows or Linux workstation computer
Just an Archiware P5 Archive license required, no per-workstation licensing
Archived files replaced with small 'stub' files that point to the original in the archive
Restore via of drag-and-drop of stub files
Search/browse/restore from the P5 Archive index in a web browser

Drag-and-drop of folders into P5 Companion App
Drag-and-Drop from the File Manager
Two central tabs, Archive and Restore, allow selection of files by drag-and-drop from the operating system file manager. A job monitor button reveals a list of running and completed jobs on the server. A configuration button allows access to the settings which connect the app to the P5 Server.
Creation of 'stub'-files
If the P5 Companion is also to be used to restore archived data, it is necessary to create stub files during archiving. These stub files are placeholders for the original file and are used by P5 Companion to address and restore the original data. Each of the archived files is replaced with a very small file with the .P5C file extension. These files are accepted by the P5 Companion App to restore the originals from the archive.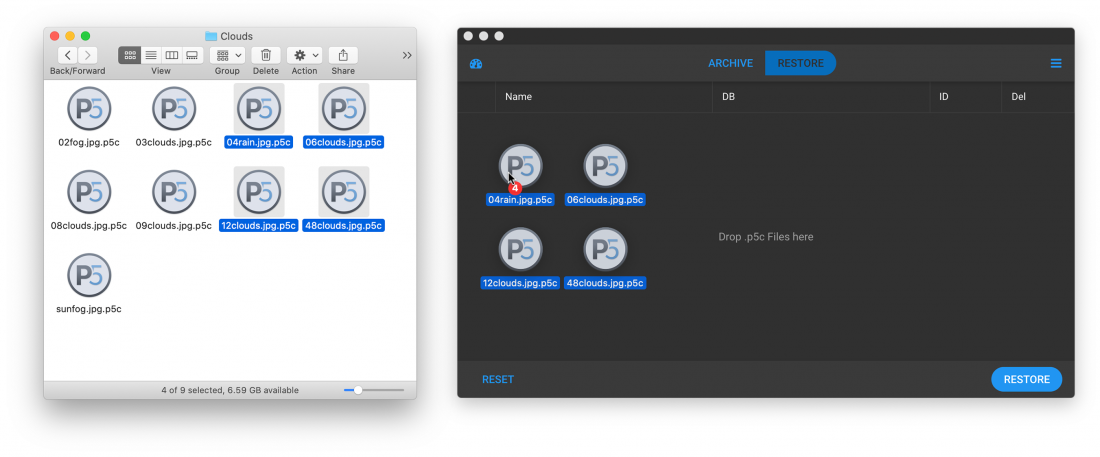 Restore of .p5c files with P5 Companion App
Archive with P5 Companion
Folders can simply be dragged and dropped from registered volumes on the 'Archive' tab of the P5 Companion. Only entire folders may be archived, not individual files. Using a Metadata form, folders can easily be indexed for restore. 
With a click on the 'Archive' button, the P5 Server accesses the selected files, via paths configured earlier, and archives the files using a specified archive plan. P5 Companion automatically switches to the Job Monitor, where progress of the job through to completion can be monitored.
Restore with P5 Companion
P5 Companion restores data using .P5C files. Data can easily be restored by dragging .P5C files into the 'Restore' tab. Multiple files from different locations can be added at once.
The restored files appear in the folder alongside the .P5C files. The restored files do not replace the .P5C files, allowing re-use of the stub files. Stub files can be moved to new locations on disks, as they contain a link back to the original file in the index that cannot be broken.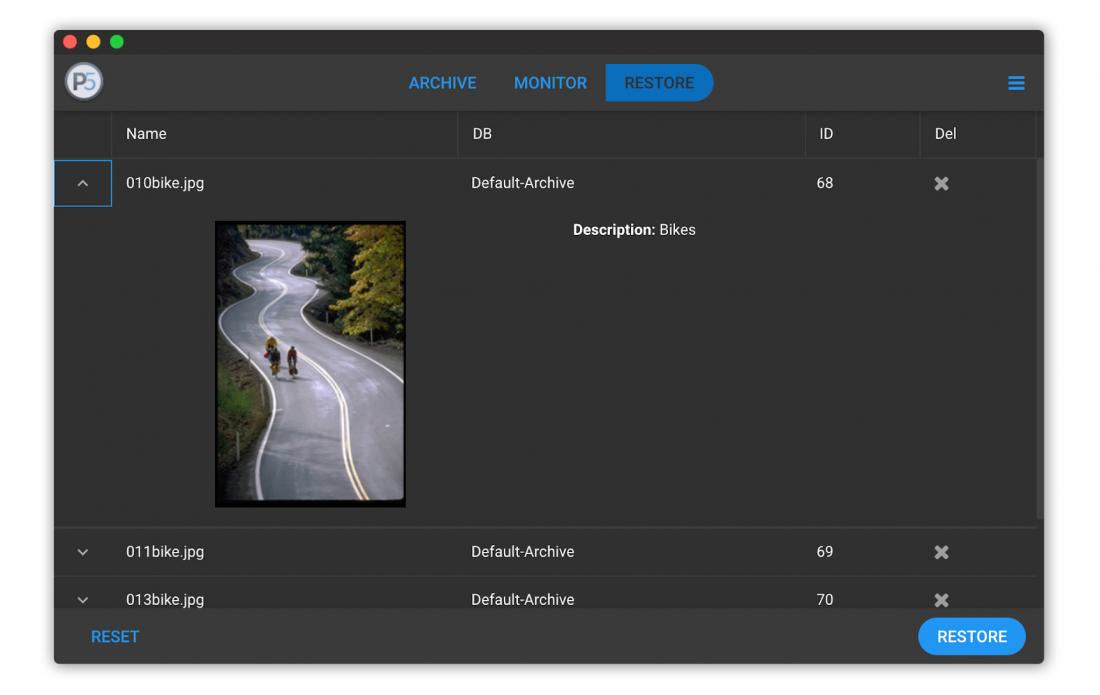 For users of the P5 Archive App (now discontinued), the P5 Companion supports stub files created by this application and can restore them.
Poster-frame thumbnail when creating video previews
As of version 6.1, P5 Archive automatically captures a poster-frame when archiving video files, using FFmpeg. The poster frame is  displayed in the grid/thumbnail view and upon double-clicking, the video proxy itself can be played back.
Built-in FFmpeg and ImageMagick open-source tools
As of P5 version 6.1, a P5 installation includes both of these tools for creation of video and graphic previews, manual download and installation of these open-source tools is no longer required. If a custom installation is required, including plug-ins or extensions, an external installation can be performed and used by P5.

The general appearance of the P5 Companion App with functionality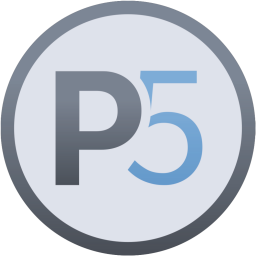 P5 Companion App
Drag-and-drop to archive and restore with P5 Archive.
Please note: Running the P5 Companion App requires Archiware P5 Archive version 6.0 or above!
Download PDF
P5 Companion Datasheet EN
Download PDF
P5 Companion Datasheet US Letter