Transcoding previews in the archive index
When archiving e.g. HD video changing resolution and codec of the preview file can create a smaller archive index. This example uses qt_tools to demonstrate the process. Of course other tools like Compressor or Episode can also be used.
The result of this example is generation of H.264 and AAC ISO MPEG-4 files (.mp4, mp4a). In the scripts the length of the preview is set to 120sec but can be changed there. The preview files will temporarily be stored at /PresSTORE_Proxies/output P4 picks them up from there and deletes them afterwords.
Install qt-tools http://omino.com/sw/qt_tools/
Put PresSTORE_Proxies.zip in root directory (/) and un-zip
Put the copy of the files (alt-drag) in /usr/local/bin (if there is no bin directory create one: mkdir bin)
In P4 Archive got to Archive-Plan/Preview Generation enter scripts as follows:
For Audio files (.AIF etc): /usr/local/bin/PresSTORE_Proxies/scripts/audio.sh
For Video files ( .mov): /usr/local/bin/PresSTORE_Proxies/scripts/video.sh
Set timeout value to at least 120 sec or above the time needed to transcode one asset.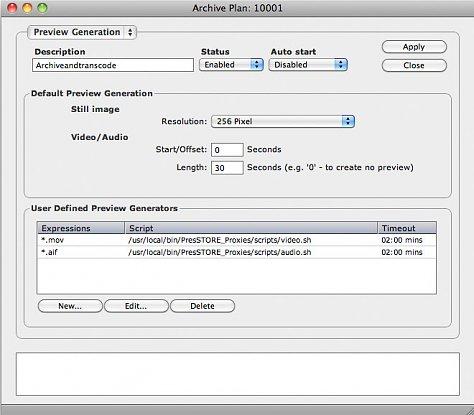 Author: Ron Pfister, Halimedia
Subscribe to our Newsletter
blue