Less is more! Less complexity - more safety for your data.
Archiware Pure is a brand-new product for backup and restore of virtual systems in VMware environments. It offers simple and efficient backup for virtual machines, without the need for constant administration.
Archiware Pure is a backup and restore solution for small VMware installations, and therefore aimed at small and medium-sized companies. It offers reliability and ease of use at a very attractive price point.
There is no need for extensive and complicated backup settings in Archiware Pure. The technologies used allow for a speedy backup of all data in a short time frame.
Archiware Pure perfectly meets the requirements of small and medium-sized businesses:
maximum security for business data with minimal effort
very simple installation
fully automated execution
small initial investment and running costs
Archiware Pure is delivered as a Virtual Appliance Template that can be easily deployed to the VMware vSphere environment, the virtual systems of which are targeted for backup. The installation consists of only 4 steps:
1. Installation of the Appliance
2. Assignment of backup storage
3. Configuration of network settings
4. Configuration of infrastructure server (vCenter/ESXi) connection parameters
After this very simple installation, Archiware Pure is ready for operation. There is no need for further configuration. All virtual systems are detected automatically and saved in the next backup window. Archiware Pure adjusts automatically to any changes in the VMware environment.
The Archiware Pure Appliance resides on a server with the other virtual machines.

With access to the central repository holding the virtual machines' data, it can back up any VM using this central repository, not only the VMs on its host server.
All VM data is backed up from the central repository to a backup storage. The backup copies remain on the central strorage for the chosen retention time and can be restored with a single click.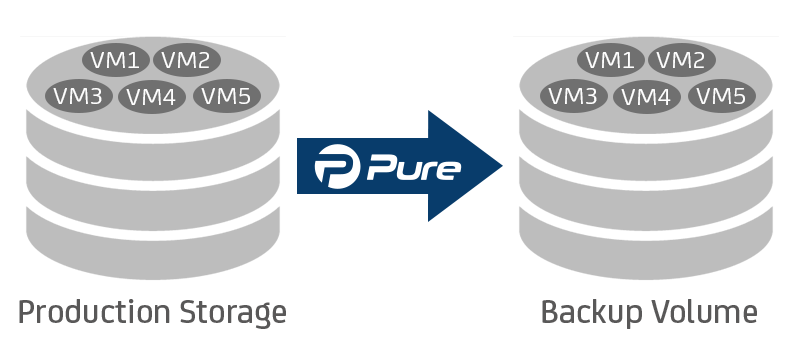 In the first phase of a backup run, all systems are saved incrementally. VMware delivers the required information with which Pure is able to copy only modified data. This way, numerous virtual machines can be backed up in minutes.
In the second phase, Archiware Pure verifies that original and backed up data are identical. This second phase guarantees maximum data security and integrity.
Essentially, all systems are backed up first and then verified in the remaining time frame. If the available backup window cannot accomodate a full verify of all machines, the next run - after a full backup of all VMs - will start with the systems that had not been verified in the previous run.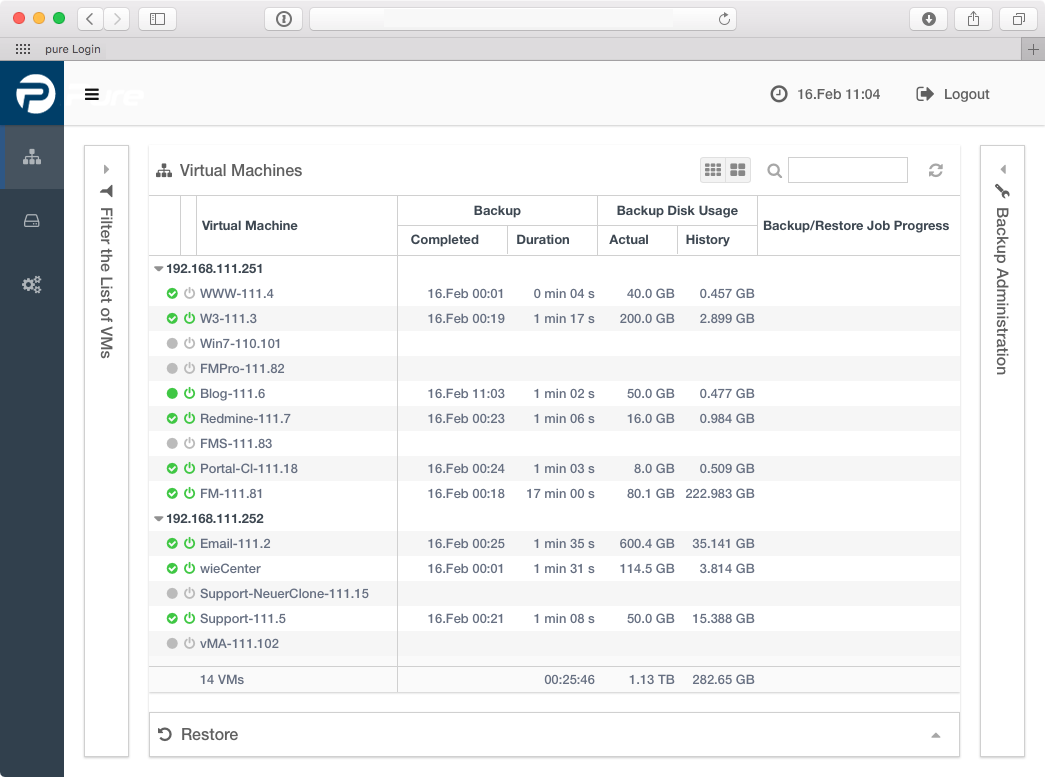 Overview of VM backup status in the Archiware Pure user interface
Hardware Requirements
RAM: 4 GB

Disk space: 50 GB for the Pure virtual appliance, not including disk space used for the backup repository.

Supported Hypervisors
VMware vSphere 6.0 in any non-free edition

VMware ESXi 6.0 Express Patch 4 (build number 3247720, 2015-11-25) or later
Test Archiware Pure Beta for free
Archiware Pure is a stand-alone product and not part of the P5 product family.

We consciously decided to make this separation, due to the technical differences between file based backup and backup of a virtual file system.